FORTAL scaffolding decks are known for their quality and robustness. Complies with standard EN 12810 and EN 12811, they are designed to eliminate any risk of falling from height and are available in several variants:
depending on the material: aluminum, plywood or composite
depending on the size: standard version, half deck and quarter deck
depending on the configuration and work environment: variable angle deck, trapdoor version, telescopic deck, etc
depending on its use: facade scaffolding, mobile tower, tower with staircases, working platform, etc
Discover our know-how in the manufacture of scaffolding decks:
Aluminum/plywood decks
With a perfect finish and enhanced durability, the decks consist of an aluminum frame and interchangeable, Combi-type, non slip plywood decking (thickness 9 or 12 mm). It is also equipped with manual or automatic locking system.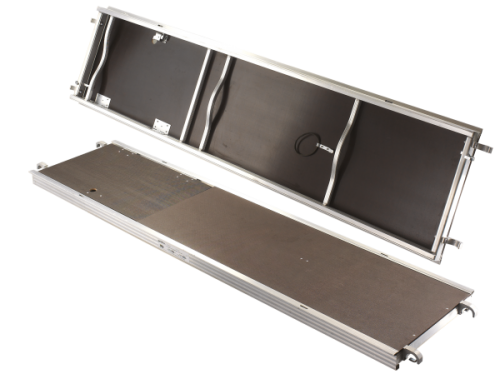 Full-aluminum decks
Tested for their resistance in compliance with standards EN 12810 and EN 12811, our aluminum decks consist of a self-supporting structure with extruded aluminum profiles and non slip aluminum decking.
Advantages:
Lighter than steel: for the equivalent surface, an aluminum deck weighs half as much as 2 steel half decks.
Reduced handling: aluminum decks are delivered as a single unit, against 2 separate sections for steel decks, which are heavier to carry.
A longer lifetime: aluminum is maintenance free.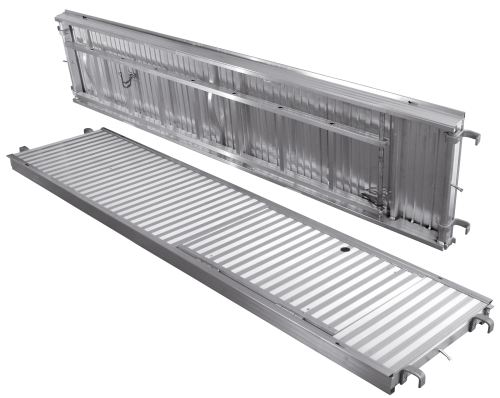 Trapdoor decks
The specifications of trapdoor decks are identical to standard decks. The added trapdoor facilitates access to an optional fold-up ladder. An all-aluminum version and an aluminum/ plywood version are available. Each trapdoor come in standard, long or offset version. A safety mechanism with hinged closure and locking system is included on all our trapdoor decks. These decks provide great stability to the structure and a comfortable work surface.
Advantages:
Several versions of trapdoors
Increased safety
A wide choice of options: inbuilt access ladders, handles, engraving, etc
Ensure safety for workers moving on the scaffolding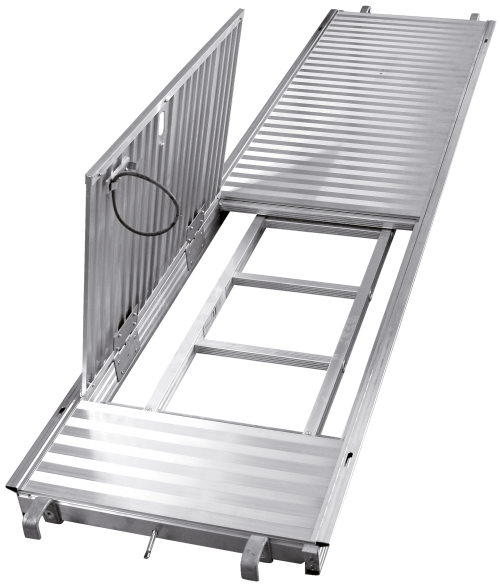 Telescopic decks
Deck consisting of a fixed aluminum/wooden or all-aluminum section and a telescoping extension in non slip chequered plate. Available in several lenghts (maximum 3 meters). Telescopic decks are equipped with handles for easy handlings. Hook diameter 52 mm adaptable on a multitude of structures.

Quarter decks and half decks
Quarter decks and half decks are available in different sizes and several finishes:
aluminum/plywood,
all-aluminum,
steel

Several hanging solutions
The hooks allow to suspended the decks on the scaffolding structure. It's a very important element that needs to be designed for profiles on which it hangs. For this reason, FORTAL has developed an innovative scaffolding deck hook (patent 11 56111) with a steel frame and a polyamide decking that combines robustness, strength and aesthetics. Two types of safety systems are available for these hooks: automatic or manual. Customisation of the RAL colour and engraving for the hooks allowing to be identified on worksite thereby avoiding theft.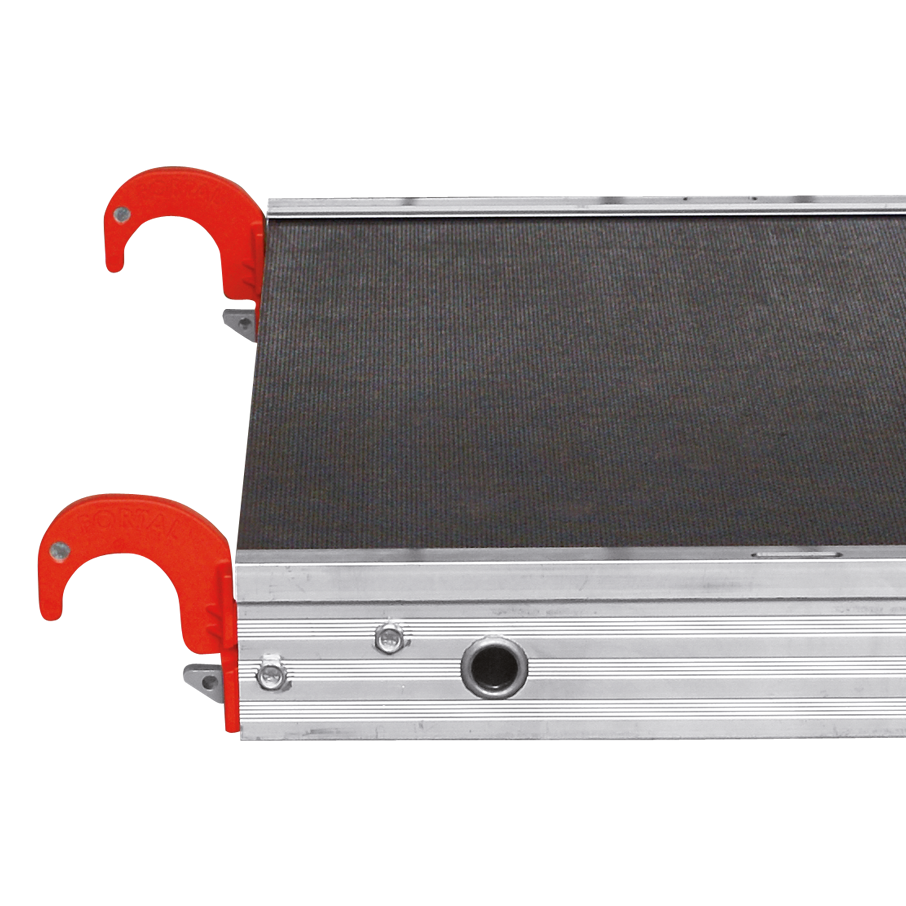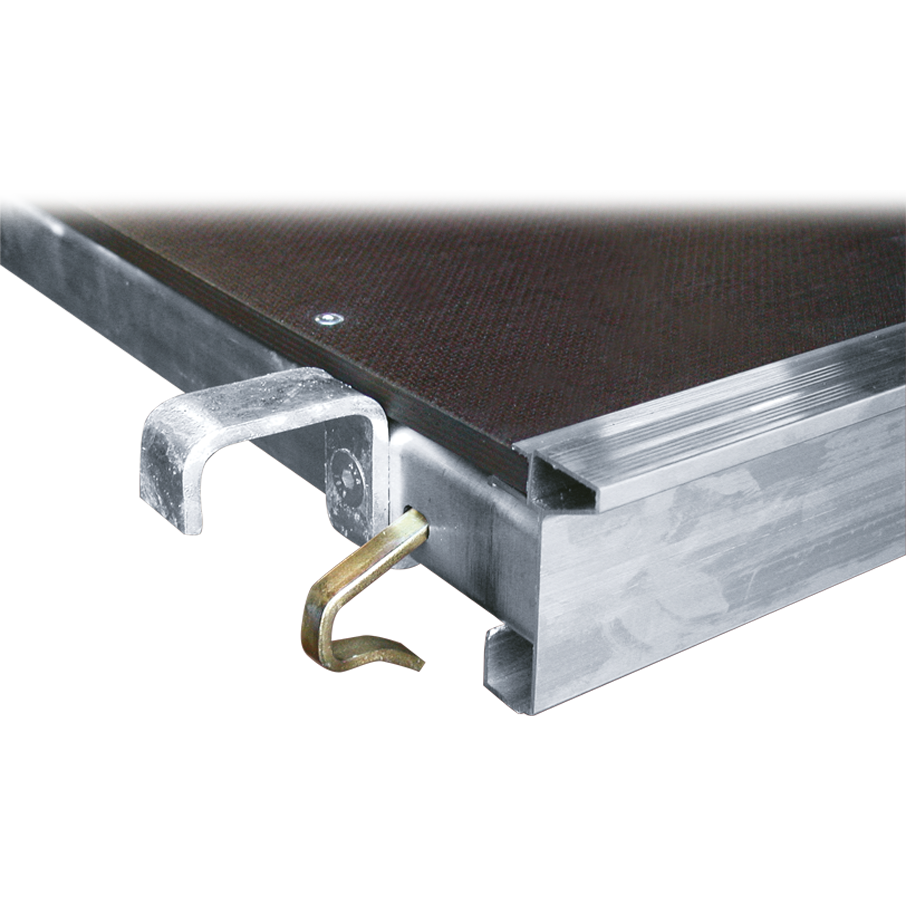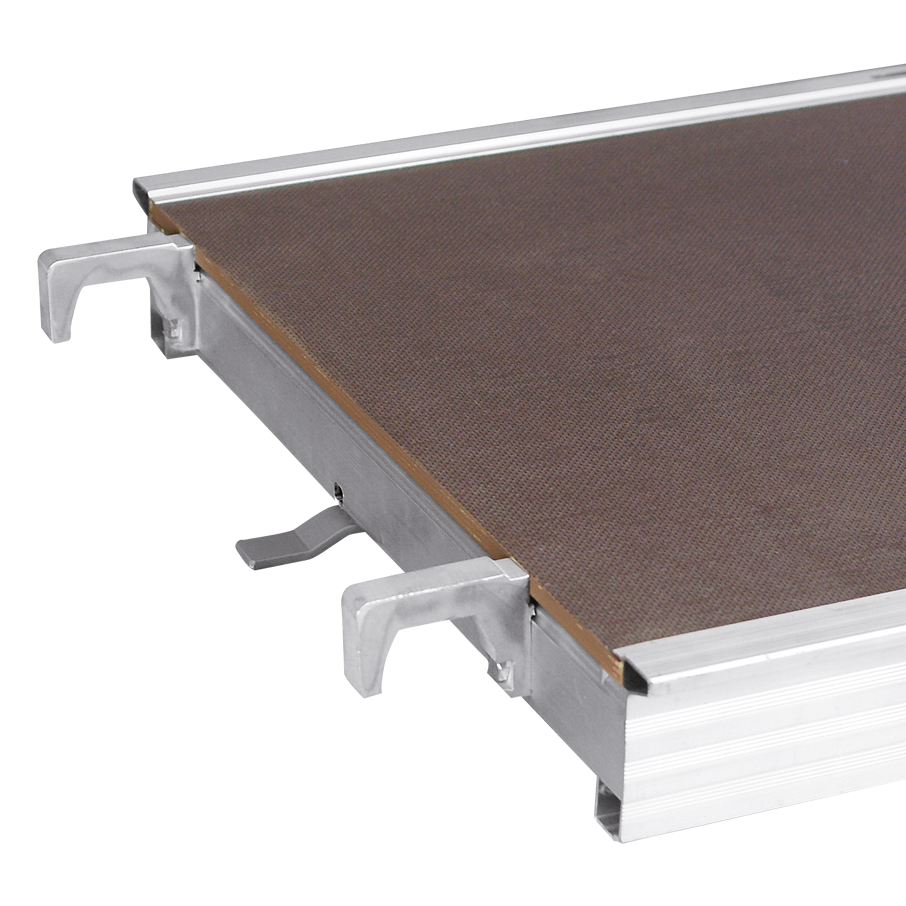 Rectangular hook for tube 60 x 30 mm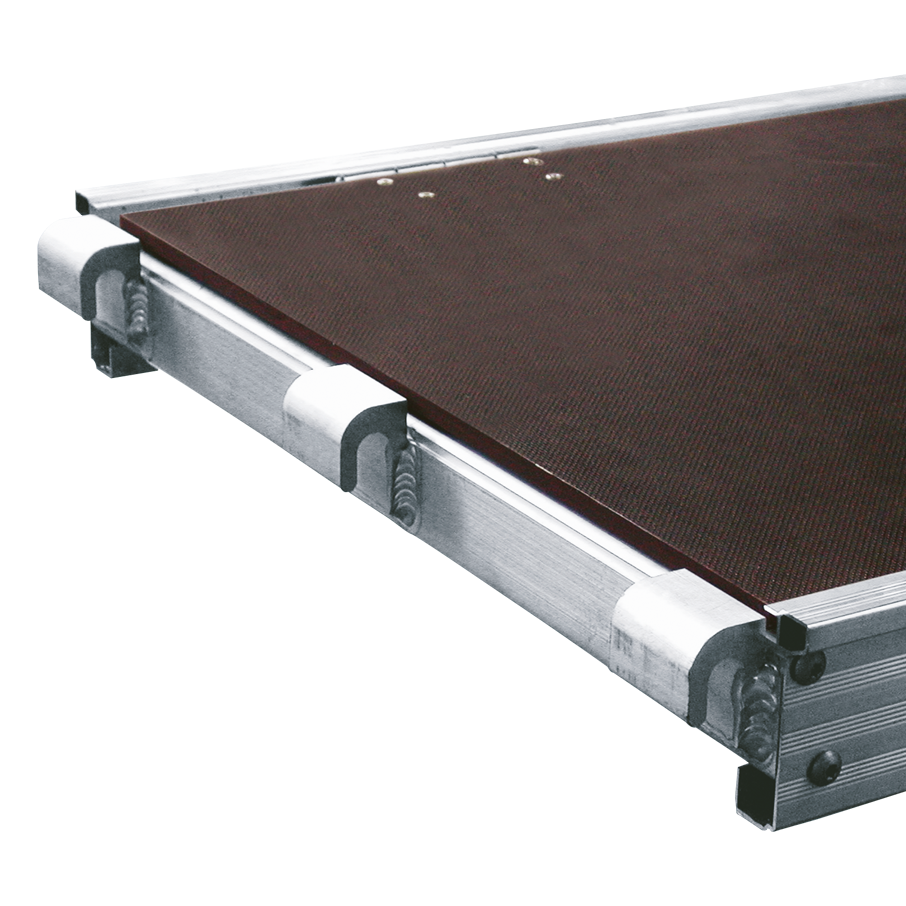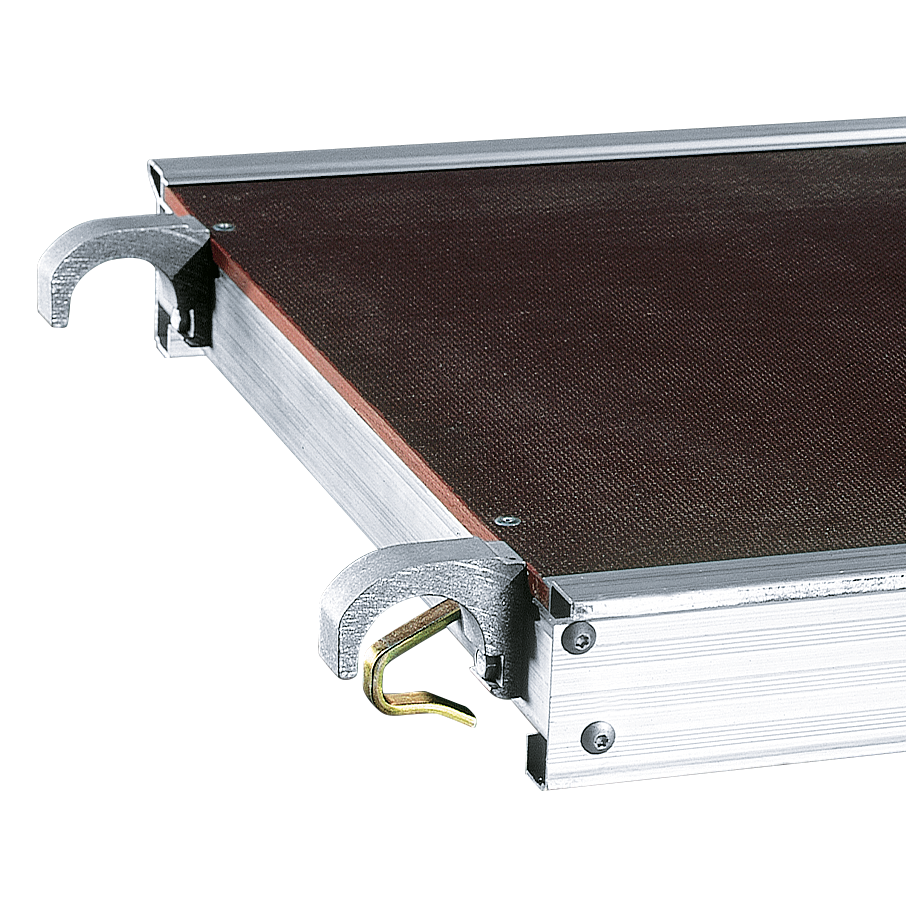 Customized products
Do you need custom scaffolding decks produced in series? FORTAL supports you in developing a fully personalized deck (material, size, configuration and working environment, use, engraving, etc).
Products comply with standards
Scaffolding decks are subject to the European standards EN 12810 and EN 12811, which define the classes of scaffolding according to, among other things, permissible loads.
FORTAL scaffolding is divided into four classes:
Scaffolding deck Classe 3 : load capacity 200 kg/m². Decks intended for operations not involving storage of material except those immediately required (painting, repainting, etc).
Scaffolding deck Classe 4 : load capacity 300 kg/m².
Scaffolding deck Classe 5 : load capacity 450 kg/m². Decks intended for bricklaying, concrete, plastering, etc.
Scaffolding deck Classe 6 : load capacity 600 kg/m². Decks intended for heavy masonry and storage.
Decks refurbishment
FORTAL proposes a refurbishing service for your old scaffolding decks.
Two solutions available:
Solution N°1, we take care of everything! Your decks are dismantled in our workshops, and the panels replaced and mounted.
Solution N°2, be self-sufficient thanks to our repair kits. Refurbish your deck yourself thanks to the deck repair kits designed by FORTAL.