FORTAL is the specialist of safety cage ladders. The FORTAL range of safety cage ladders is specially designed for buildings and industrial installations. Depending on the environnement or use, it can be made of aluminum, stainless steel or galvanized steel.
Remarkable features
The FORTAL safety cage ladders guarantee remarkable features:
Aluminium structure, alloy 6000 series: an aesthetic and lightweight material that guarantees good resistance over time, even in aggressive environments (as salty environment)

65

 

x

 

25

 mm pre-drilled extruded aluminum profile for increased rigidity and easy installation

115

 

x

 

25

 

mm

 

extruded

 

aluminium

 reinforced profile 

for

 

specific

 

installations

Environmentally

 

friendly

 

stainless

 

steel

 

screw

 b

ecause

 

free

 

of

 

chrome

 

6

 

and

 

any

 

heavy

 

metal

Square

 b

ars

 

25

 

x

 

25

 

mm

 

fixed in profile 

by

 

double

 

crimping

 for a better comfort of use and lifetime
Change-over with independent platform of the hoops, fixed directly on the ladder for greater resistance
Hoops screw directly into the drilled ladder vertical bars for quick mounting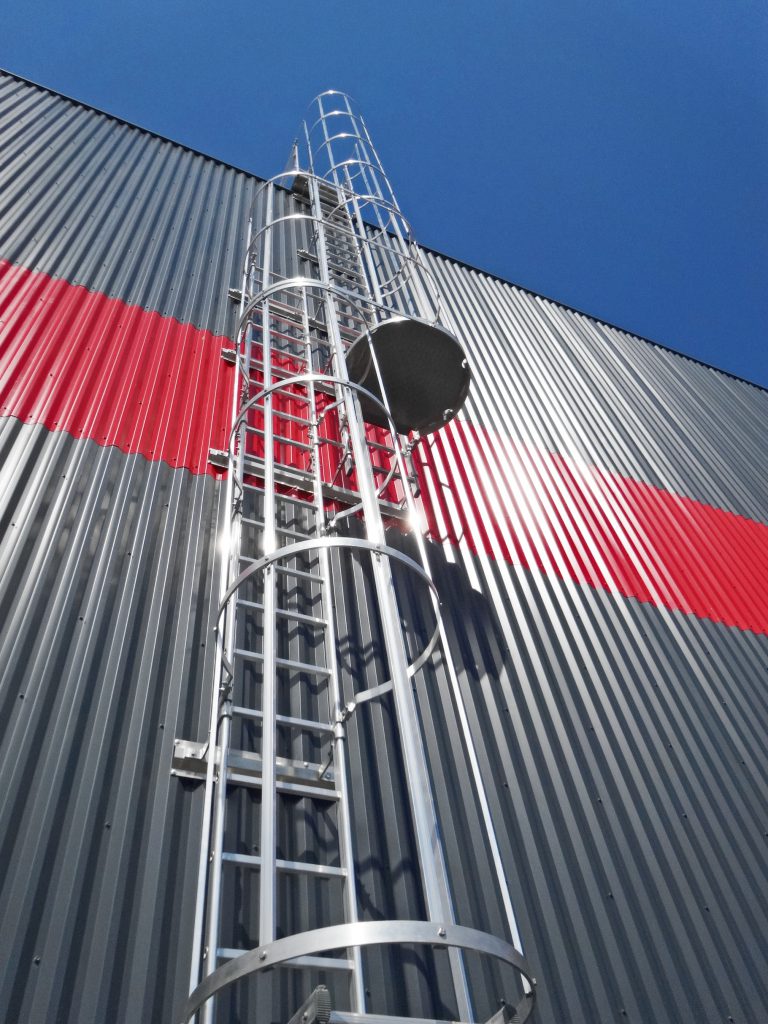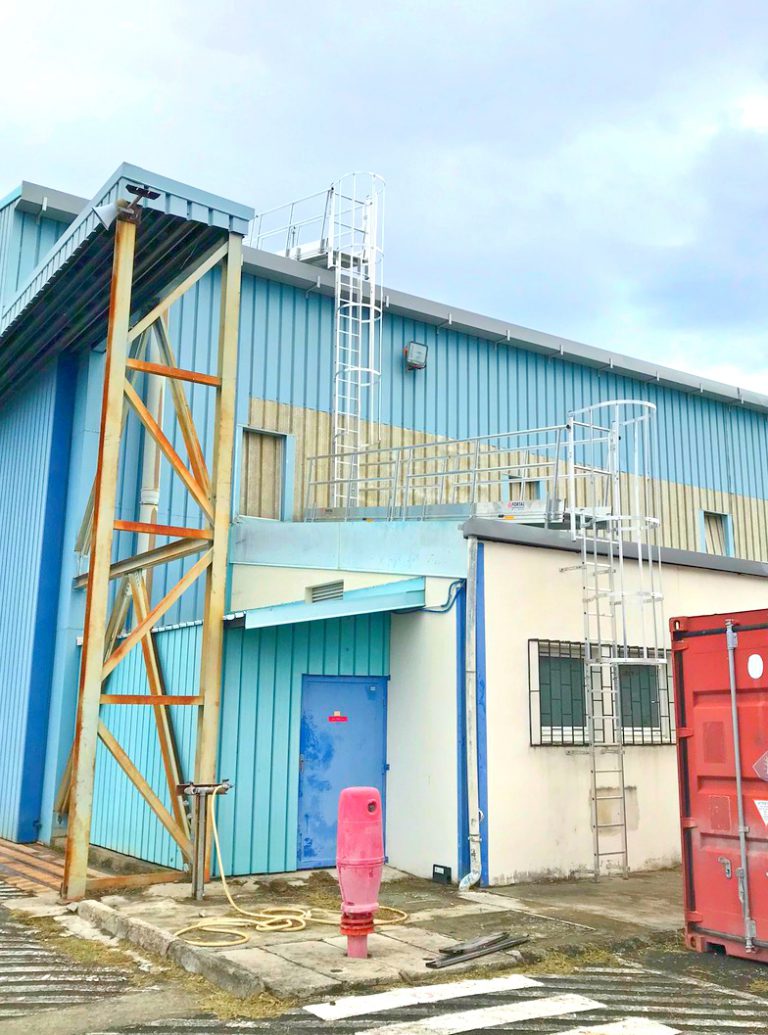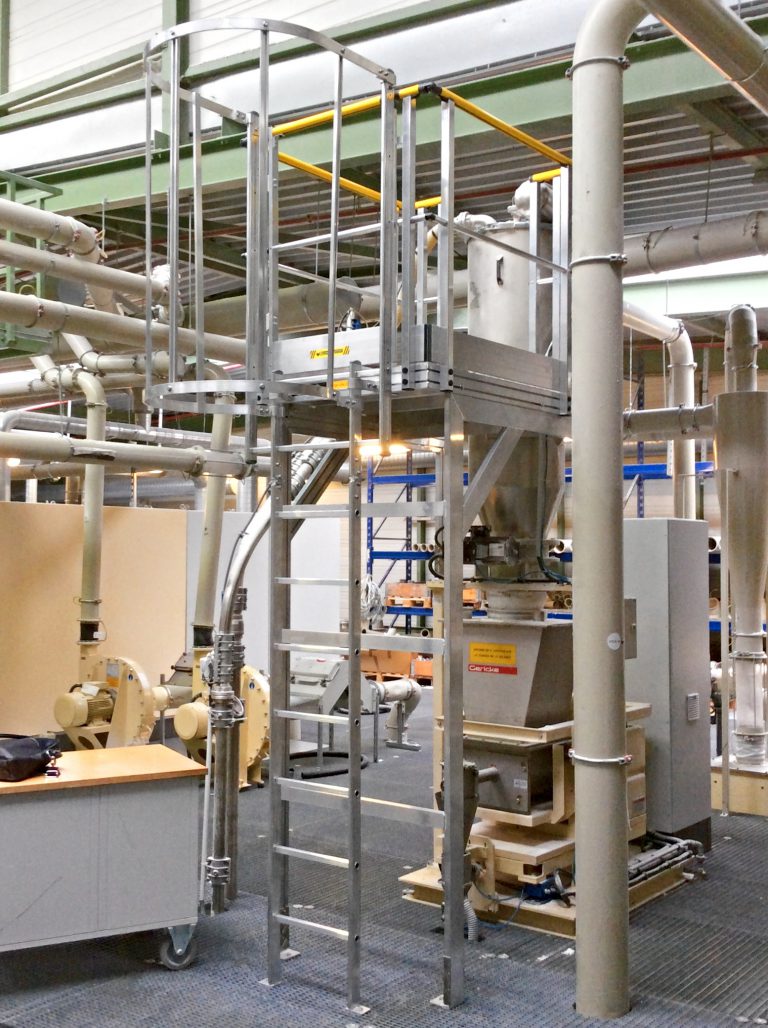 Products conform to standards
Whether it is less than 8 meters whithout change-over or more than 8 meters with change-over and platform, our safety cage ladders comply with the safety rules defined in the French Labour Laws and articles R 232-1-3 (falling tisk) and R 232-1-4 (headmaster). Our safety cage ladders comply with NF EN ISO 14 122-4 demonstrating that they meet market requirements and comply with safety, suitability and quality characteristics.
Two delivery concepts: kit or pre-assembly
Delivery of aluminum safety cage ladder in kit
The safety cage ladders in kit require a cut and assembly by yourself.
Delivery of the pre-assembly safety cage ladder
This exclusive concept ensures quick and easy implementation on your construction sites: your safety cage ladder is pre-assembled and machined by FORTAL according to your request. This solution allows you to divide the mounting time of your safety cage ladders by two.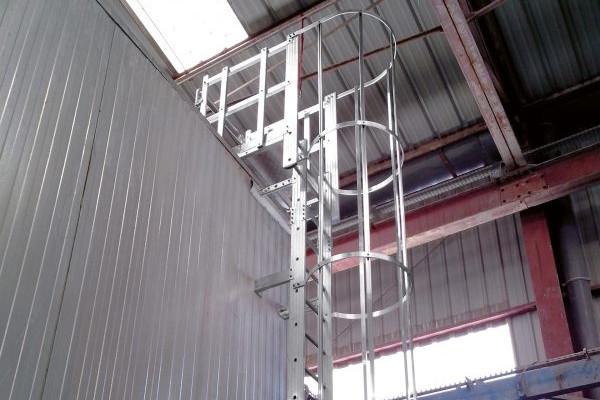 Reinforced profiles for specific configurations
In order to respond to situations where the mounting bracket does not allow the installation of the intermediary fixings of the safety cage ladder, we have developed a reinforced aluminum profile 115 x 25 mm. This allows your safety cage ladder to reach a maximum height of 7 800 mm with only one high and one low fastening.
Custom safety cage ladder
Think to lacquering to protect and enhance your safety cage ladder! Can be lacquered in all RAL colours for a perfect integration of your safety cage ladder into your structure.